Chiropractic Care
Chiropractic Adjustments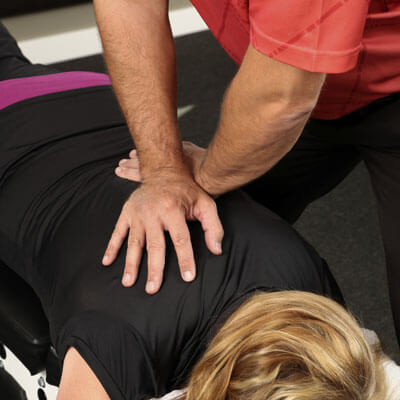 Spinal joints that aren't moving right can choke or irritate nearby nerves. Chiropractic adjustments add motion to these stuck joints, reducing nervous system disruption. Then, health has the best opportunity to return.
Feels Great
Because we rely on adjustments to help your body "RIGHT itself", we're highly proficient.
Most patients report a sense of well-being and ease. After all, if adjustments weren't pleasant, our patientss wouldn't return for the multiple visits needed to retrain their spine!
Everyone Benefits
Newborns, infants, children, seniors and even back surgery patients can get adjusted. Naturally, adjustments are tailored to your size, age and particular health issue.
Our Chiropractic Techniques
At Get Back Health Chiropractic and Wellness Clinic, we use a number of highly-effective adjusting approaches to help improve spinal biomechanics and reduce nervous system interference. The approach we use is based on our clinical judgment and years of experience.
The primary adjusting techniques we use include:
Activator Methods®
Active Release®
Acupuncture
AK Applied Kinesiology
ArthroStim
Atlas Orthogonal
B.E.S.T.
Bio Cranial Technique
CBP®
Cox Flexion-Distraction
Decompression
Diversified
Electrical Muscle Stimulation
Extremities
Foot Levelers
Gonstead
Graston
Grostic
Impulse
Intersegmental Traction
Koren Specific
Laser
Logan Basic
Massage Therapy
Manipulation Under Anesthesia
Motion Palpation
Myofascial Release
N E T
Network Spinal Analysis
NUCCA
Nutritional Response Testing
Palmer Package
Pettibon
Pierce
Shock Wave Therapy
SIGMA Instrument Methods
SOT
Subluxation Station
Thompson
Toggle Recoil
Torque Release
Trigger Point
Ultrasound
Webster
Book An Appointment
If you've been to a chiropractor before and prefer to be adjusted in a particular way, let us know. We want you to relax, enjoy and fully benefit from your chiropractic care.
Contact us to book an appointment with one of our Dublin chiropractors.
CONTACT US »
---
Get Back Health Chiropractic and Wellness Clinic | (01) 66 330 03